Parent Guidance for Mental Health
ParentGuidance.org is an online service by licensed therapists that provides trusted and specialized courses, professional supportand a safe community for parents to learn how to support their children and get answers to mental health questions.
Backed by therapists to provide trusted and specialized courses, professional support and a safe community of parents helping each other.
FREE and confidential for families and provided through a generous grant by the Cook Center for Human Connection.


Parent Guidance Mental Health Series
In response to parent concerns about student health and well-being, Fairfield County ESC is partnering with ParentGuidance.org to deliver free presentations developed by licensed therapists. This series will be virtual, interactive, and is designed to help parents and caregivers support students. Registration, attendance and interactions are kept totally anonymous from other viewers.
If you can't attend live, you can register and will automatically receive the recording of the webinar. In addition, recorded webinars can be found below the series schedule and are available for one year from the recorded date.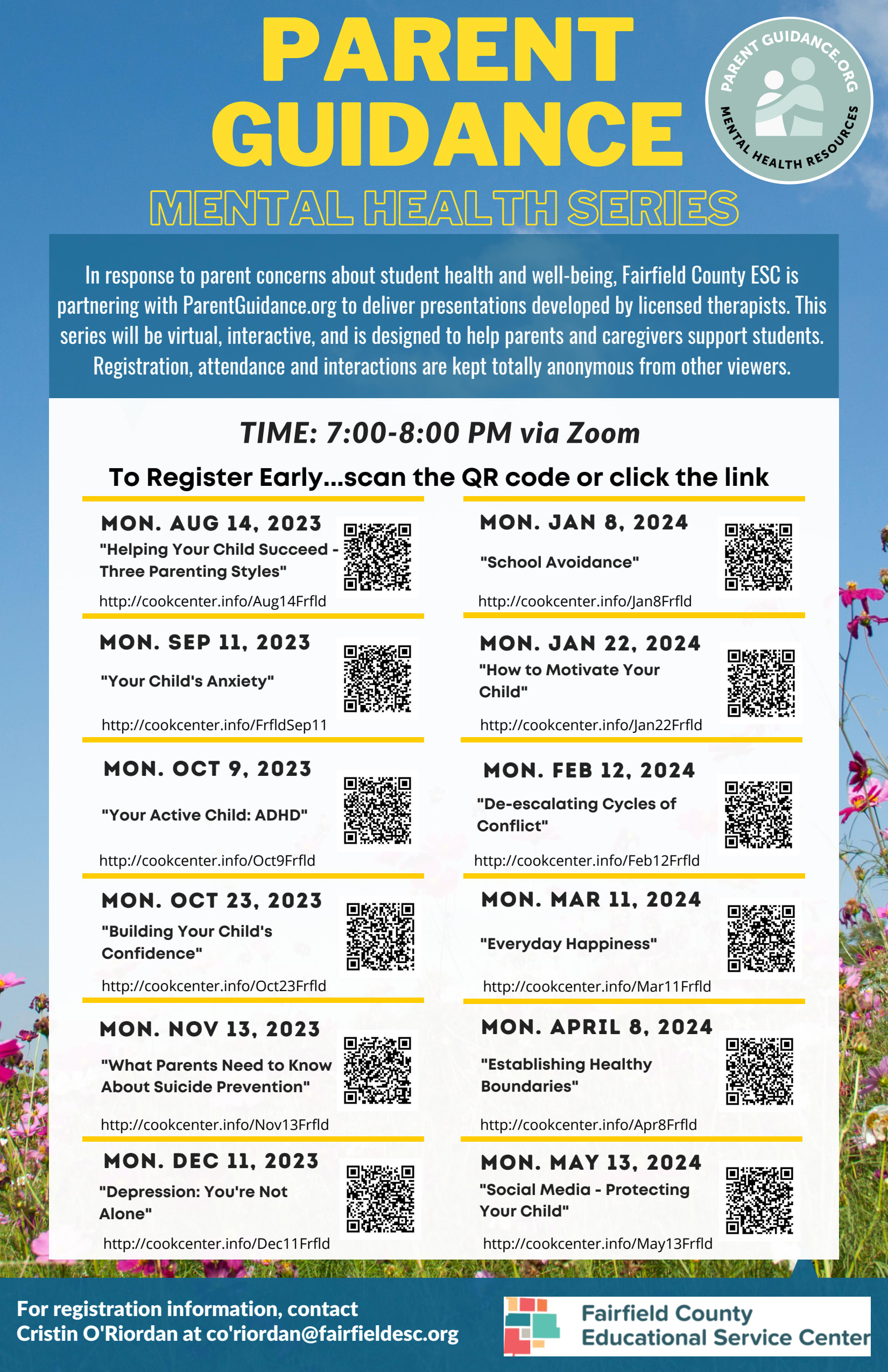 Webinar Recordings
"Helping Your Child Succeed - 3 Parenting Styles" from August 14, 2023
"Your Child's Anxiety" from September 11, 2023
"Your Active Child: ADHD" from October 9, 2023
"Building Your Child's Confidence" from October 23, 2023
"What Parents Need to Know About Suicide Prevention" from November 13, 2023
Monthly Newsletters
December Mental Health Newsletter (English/Spanish)
Archived Newsletters
November Mental Health Newsletter - "Financial Stress" (English) (Spanish)
October Mental Health Newsletter - "Friendship Skills: Teaching Your Child How to Make and Maintain Healthy Friendships" (English) (Spanish)
September Mental Health Newsletter- "Equipping Your Child: Navigating Peer Pressure and Cultivating Healthy Choices" (English), (Spanish)
August Mental Health Newsletter - "Parental Perspectives: Nurturing Your Mental Health and Empowering Your Child" (English) (Spanish)